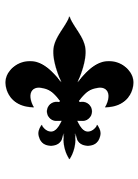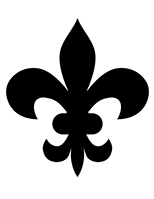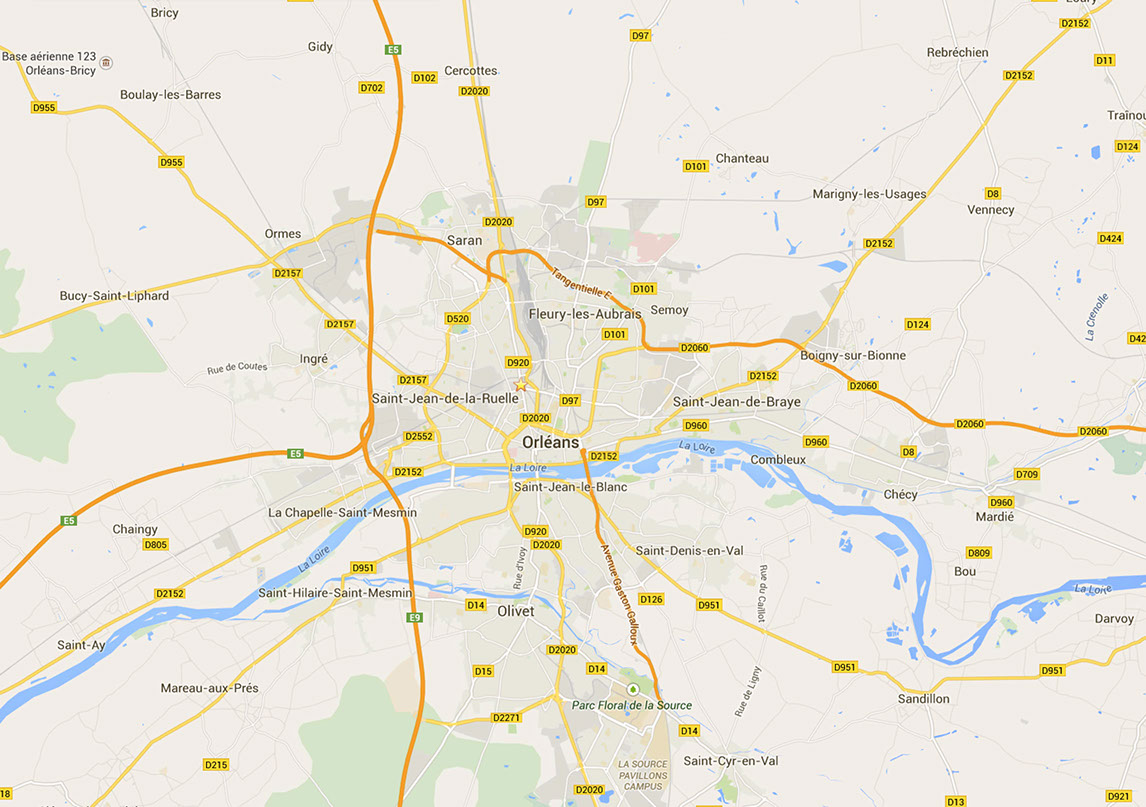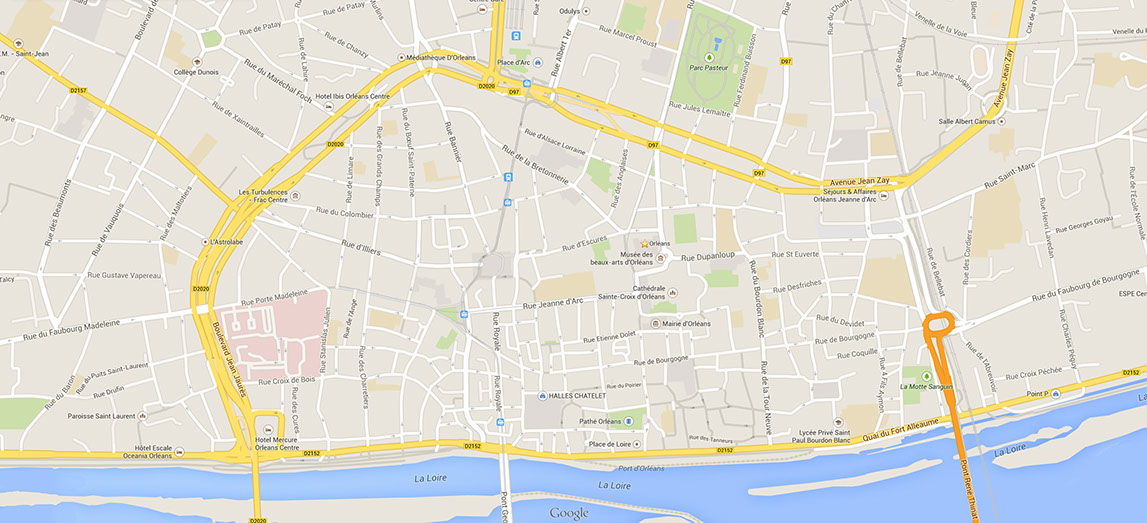 Contributors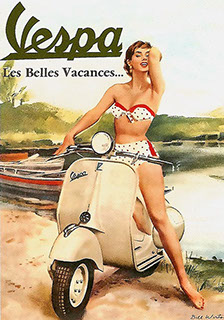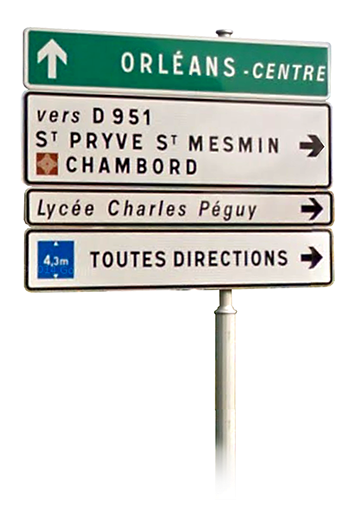 Go to Google Maps
Go to Google Maps

Bob Maynard
on Les Fêtes Jeanne d'Arc
Thank you, Mark Londner, for this great link.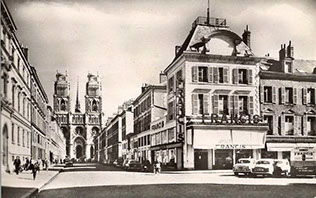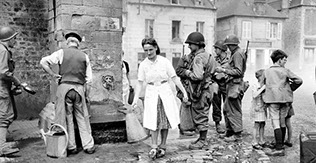 2015 Reunion Photos on Facebook
Welcome to Un Tour d'Orleans, a companion website to Dave Thatcher's alumni website for Orleans American
High School. Here you'll see images and stories about the way Orleans was back in the day, and how it is now.
This page also complements Gregg Steinwand's Facebook page, Orleans American High School
Former Students. In fact, it was this Facebook page that served as the inspiration for this webpage.
Old photos of Orleans, OHS and comments about life there in the 50s and 60s always generate a lot
of interest and enthusiastic participation on FB. One comment or photo usually jogs people's memory,
inspiring tons of new comments. But on Facebook, comments from several weeks or months ago
can be hard to locate. Those priceless memories will be more easily maintained and accessed
on a web page.
Content for this webpage will be crowd sourced. We'll harvest content from the OHS Facebook page,
and also create and encourage new original content.
Your photos and comments about your experiences in Orleans are interesting to all OHS alums, and
this page is a great place to share them.
Hit the "OrleansAmericanHighSchool.com" button in the upper right for more comprehensive information
about the OHS experience, including Class Directories, Reunion Information, Faculty, Yearbooks, Newspapers,
Photos, Class News, and much more.
Les Fêtes de Jeanne d'Arc à Orléans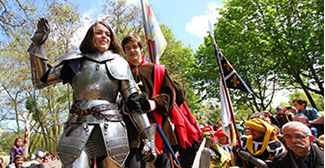 Since 1430 the Orléanais have celebrated the Fêtes de Jeanne d'Arc in late April and early May,
commemorating the liberation of Orléans from the English. A week of street parties, enormous medieval
costume parades and concerts ends with a procession and morning Mass at the cathedral on 8 May.
From Bob Maynard's post to the Facebook Group Orleans American High
School Former Students: It's almost May 8th and Les Fêtes Jeanne d'Arc in Orléans.
We all know that date marks Joan's leading the French army in a victorious battle that
ended the English siege of the city. But how to explain this painting of Joan's joyous
entry into Orléans on April 29th? Just what kind of "siege" is it that lets armies come
and go? Do you care? I did. Here's the answer:
• A new bio of Joan by Helen Castor explains clearly the comings and goings of both
armies around Orléans in 1428 and 1429. It's a good primer on the 100 Years War, too.
• The English did not surround Orléans; they built several small earth/timber forts (bastilles)
to the north and west; also a couple upriver of town; and they captured the fortified approach to
the city on the southern end of the bridge (Les Tourelles).
• So, she and a few soldiers crossed the Loire from the south, upriver at Chécy,
slipped past the English, and entered the city through its eastern gate on 29 April.
• Once the French took the two bastilles east of town, river crossings were easier for the
French soldiers and supply wagons and boats.
• The big battle for the bridge was May 6-8. After the English lost Les Tourelles, they abandoned
the outlying bastilles and moved southwest to Meung and Beaugency. Joan later freed those towns, too.
• Joan had a triumphal entry into Orléans via the bridge on May 8th. Remains of this bridge are
still visible today, about 100 yards east/upriver of the current bridge.
There you have it. Any questions, class? : )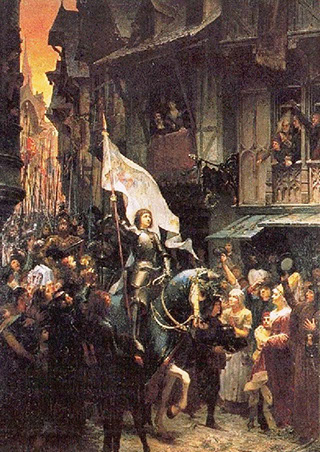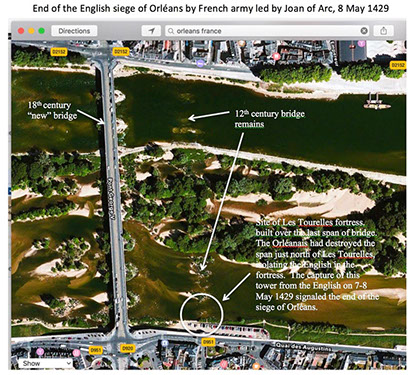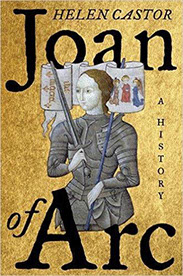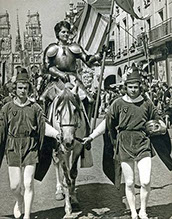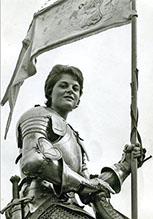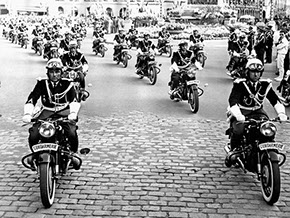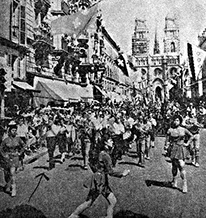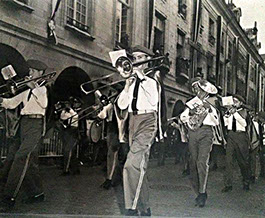 These black and white photos appeared in the Orléans
newspaper, and were printed for me by Paul Chevalier, a
Senior on the 62-63 Yearbook staff.
Don Ballard, OHS Class of '63.
Left: The OHS Marching Band during the '61 Jean d' Arc parade, from the cover of the local Orleans paper. That's me Dad's arrow is pointing to; Jan Markle along side to my right, and I think that's Bobby Pugh to my left. Center: 1962 parade photo from Stars and Stripes. Notice we'd gotten uniforms. Mike Katz on my right, and Jean-Pierre Maxwell playing the baritone behind me. Right: Josie Matlock leads the OHS Band
Mark Londner, OHS Class of '65.
Special thanks to Andre Lemoult for sharing these two videos.


France
Germany
England
Japan
Italy
© 2016 Magnan-McFee Creative Services